HEIDI ENDEMANN
Born, raised and educated in Germany. Cologne was my first home town, where I graduated from the Cologne Academy of Fine Arts (Koelner Werkschulen) in 1961 at age 20.
Visited the USA on a work visa in 1961, got a job as a graphic designer & illustrator at ABC Television in New York for one year.
Took the Western Route back to Germany, met my future husband in San Francisco, stayed for 2 years – got a job as the "Art Department", (illustration, copy writing & publicity) at Benioff's Women's Department store in San Francisco.
Returned to Germany for a spell, decided that America was OK, married the Yank in S.F., and for the next 8 years worked as a freelancer, doing illustrations and animations for Levy Strauss, Sesame Street & others through various advertising agencies.
Personally, fine art and advertising art were not compatible. In 1972 we relocated to a remote area on the Northern California coast. At that time I decided that a complete break with advertising art was necessary in order to advance creatively in the painting field.
Because of space restrictions and the toxic nature of oil paints I switched over to watercolor, which I continued until 1990 when my studio was completed. I then returned to my first love: oil painting. A constant in my work has been the application of 23K gold leaf as an integral part, whether on paper or linen.
I work mainly in series-form. The themes have run the gamut from nature metamorphoses, animal territorialism, human economic circumstances, personal and general environmental observations and assessments, social and political hierarchies – and now back to flora… with a bite.
In 1977 I had a solo show at the Goethe institute in San Francisco and in 1982 at the Paper Mill Gallery in Los Angeles. In 1984 my work came to the attention of Sandy Milliken of Alexander F. Milliken Gallery in Soho, New York, where I had solo exhibitions in 1985 and 1987 and was also included in several group shows, up until 1991 when he closed his gallery.
Since then I have had the luxury to completely concentrate on my work, but have exhibited numerous times in regional galleries and institutions.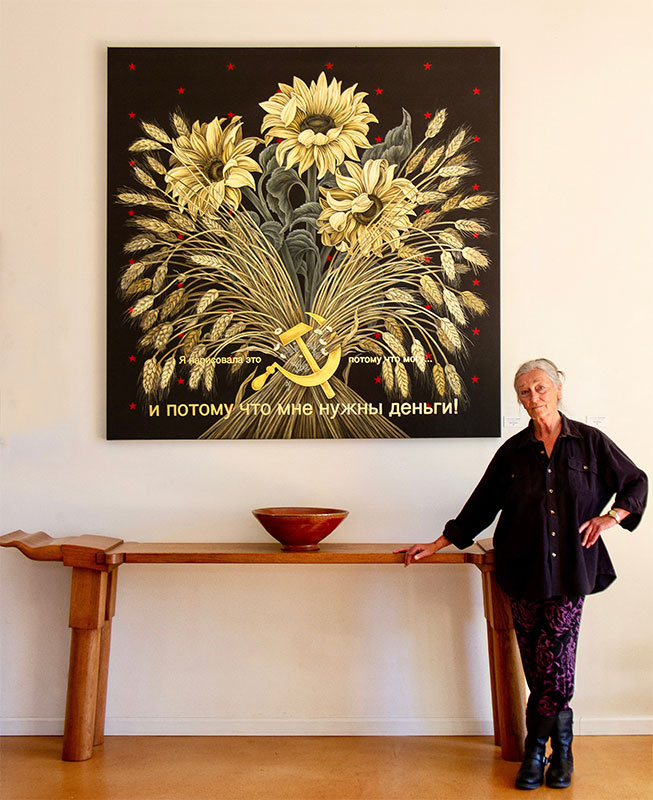 EXHIBITION LIST
Solo Exhibitions
| | |
| --- | --- |
| 2010 | Painting Is Not Dead, Gualala Center for the Arts, Gualala, CA |
| 2003 | Oh Happy Day, Mendocino College, Ukiah, CA |
| 2002 | Paintings, 30 Years on the Coast, City Art Gallery, Point Arena, CA |
| 1992 | College of the Redwoods, Fort Bragg, CA |
| 1987 | Heidi Endemann, Paintings, Alexander F. Milliken Gallery, New York, NY |
| 1985 | Heidi Endemann, Paintings, Alexander F. Milliken Gallery, New York, NY |
| 1982-83 | Mt. San Antonio College, Walnut, CA |
| 1982 | Paper Mill Gallery, Los Angeles, CA |
| 1977 | Goethe Institute, San Francisco, CA |
Group Exhibitions
2013
Tradition of Mayhem, Santa Rosa Junior College, Santa Rosa, CA
2011-12
Bear in Mind: The Story of the California Grizzly, Grace Hudson Museum, Ukiah, CA
2006
Paint, Paper, Clay, Mendocino College, Ukiah, CA
2003
Inaugural Exhibition, Gerald Peters Gallery, Santa Fe, NM
1997
Parallel Paths-Separate Visions, Grace Hudson Museum, Ukiah, CA
1996
Animals, Susan Cummins Gallery, Mill Valley, CA
1994-95
The Gold Show, Palo Alto Cultural Center, Palo Alto, CA
1994
Bird Imagery, Susan Cummins Gallery, Mill Valley, CA
1994
69th Crocker Kingsley Annual, Crocker Museum, Sacramento, CA
1988
Braunstein Quay Gallery, San Francisco, CA
1988
Consonance, Watercolors & Pastels, Jane Haslem Gallery, Washington, DC
1987
Fish, Alexander F. Milliken Gallery, New York, NY
1987
Art on Paper, Alexander F. Milliken Gallery, New York, NY
1985-87
American Realism: Twentieth Century Drawings and Watercolors from the Glenn Janss Collection, a traveling exhibition organized by the San Francisco Museum of Modern Art:
• De Cordova and Dana Museum and Park, Lincoln, MA
• Archer M. Huntington Art Gallery, University of Texas, Austin
• Williams College Museum of Art, Williamstown, MA
• Akron Art Museum
1984
All Northern California Print Competition, Palo Alto, CA
1984
Laguna Beach Museum (Juried Exhibition), Laguna Beach, CA
1980
Crocker Museum (Juried Exhibition), Sacramento, CA
1978-84
Galerie Clasing, Osnabrueck, Germany
Teaching Experience
| | |
| --- | --- |
| 1989 | Watercolor Seminar, Co Instructor with William Allen, Richard McLean and Mary Snowden, Mendocino Art Center, Mendocino, CA |
| 1970-71 | Instructor, Drawing and Design, San Francisco Academy of Art |
Selected Bibliography
| | |
| --- | --- |
| Louise Sandhouse. 2014. | Earthquakes, Mudslides, Fires & Riots: California and Graphic Design 1936-1986. New York: Metropolis Books. Pages 186 & 187 |
| Alvin Martin. 1985. | American Realism: Twentieth Century Drawings and Watercolors from the Glenn Janss Collection. New York: Harry N. Abrams. Pages 150, 153 & 212 |
Grants and Awards
| | |
| --- | --- |
| 1992 | Honorary Doctorate (in the Humanities), Pacific School of Psychology, San Francisco, CA |
| 1989 | National Endowment for the Arts, Individual Fellowship |